When my friend Elisa invited me to an event that titled
The Royal Film Commission – Jordan in cooperation with PLURAL+ Youth Video Festival on Migration, Diversity and Social Inclusion; a joint initiative of the United Nations Alliance of Civilizations (UNAOC) and the International Organization for Migration (IOM) invites you to attend 10 short award-winning films at PLURAL+ Festival, in the presence of young filmmakers
I was like "Woah, tons of my favourite words here!! I haaave to go 😀 ".
Besides, it was at the Rainbow Theatre, i.e. FREE ENTRANCE, wink wink!!!
The screening itself was much shorter than we expected and I wasn't too pleased with the presenter and the way the evening was handled, but I enjoyed it (I also was in very good company, I should mention) and quite a few of the films gave me something to think about. Here are the ones I appreciated the most, in reverse order, with their official description:
As I want by Alaa Al Sa'di, 2:02 min, English, Jordan, 2013 – What women wear is all too often the subject of public debate. This short film sheds some light on the paradoxical ways women are judged for their clothes.
The Girl, Whose Shadow Reflects the Moon by Walaa, 5:02 min, Arabic with English subtitles, Jordan, 2015 – A young Syrian refugee explores her new challenging life in Jordan, as well as her passions and dreams
Another Kind of Girl by Khaldiya, 5 min, Arabic with English subtitles, Jordan, 2015 – A young Syrian girl explores the lives of children in a refugee camp, finding joy and educational chance amid displacement
https://vimeo.com/153018938 – not sure why this one doesn't appear as a video here, but do follow the link and you'll be able to see it no prob! 🙂
Exit Right by Rupert Holler & Bernhard Wenger, 4:57 min, German with English subtitles, Austria, 2015 – Look away or intervene? When a black man is a victim of racial abuse on a bus, there is only one passenger who will stand up for him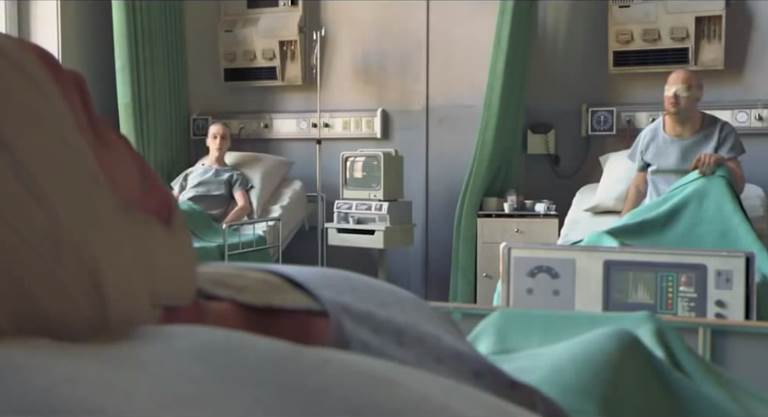 …and finally, my super favourite: Unfinished Tales: Fool's Paradise by Hussam Ismail, Tao Painvin & Stephane Barrere, 5:50 min, French with English subtitles, Jordan, 2016 – Four wounded soldiers are staying in a hospital room. One soldier paints a picture to the rest of what is outside. The story he was telling is picked up by another soldier after he passes away …but nooooo I can't find this one online 😥 Sorry! Wish I could show you how brilliant and wonderfully made it is!!!!!
Fun fact: a member of the audience found the first two films I've listed pretty offensive because of their portrayal of men in Jordanian society. Welllll… yeah. Sorry kid, but that stuff does exist and needs to be shown. All my respect to the authors ❤ and I wish you to become a little better at putting yourself in other people's shoes from now on, because at times being a woman really isn't easy and you could at least try to empathize.